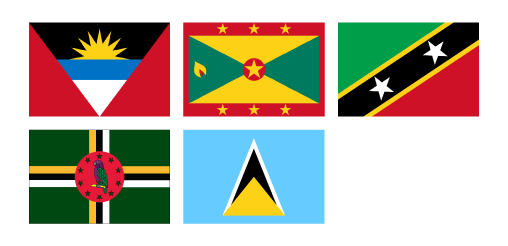 The Caribbean Sea lying to the southeast of the Gulf of Mexico and the North American continent is home to more than 7,000 islands, which were created by volcanoes or by coral reefs accreting millions of years ago. The Caribbean region begins its history when Europeans set foot to explore and expand the territory.
Caribbean is known as the paradise of the resort tourism industry since it welcomes about 12 million visitors a year from all over the world thanks to its beautiful coastline and year-round sunny climate.
Currently, the Caribbean region includes 15 countries including Antigua & Barbuda, St. Lucia, Grenada, Dominica or St.Kitts & Nevis…
Why choose Caribbean Citizenship ?

Transparent
Process
Transparent application process – Safe form of investment

Fast
Application process
The investor and 3 generations of the family are issued citizenship after 1-6 months.

Visa-free for
140 countries
Visa-free for over 140 countries, including Schengen area, the UK, Singapore, Hong Kong… Moreover, the investor and family can apply for a 10-year visa in US when having citizenship.

Citizenship for
3 generations
Permanent citizenship is granted for 3 generations (parents, main applicant, spouse and dependent children).

Investment
From 100,000 USD
Minimum investment package to own passport is of 100,000 USD.

Attractive
Projects
High-class real estate in the tourism - resort paradise, with high profitability

Simple
Requirements
No English skills, management experience required

Tax haven
Incentives
Financial industry in this area operates like America's backyard. Caribbean countries have long been known as a place for keeping investors' assets with a tax rate of nearly 0%.
SETTLEMENT PROGRAMS IN CARIBBEAN
We have successfully helped over 18,000 families settle down!
Let us help you!
If you are looking for an opportunity to get a European permanent resident card, please register your contact information, our consultant will connect you directly!